Substantiation of the composition and technology for obtaining combined sustained-release tablets for the treatment of hypertension
Keywords:
indapamide; enalapril; fixed combination; tablets; wet granulation
Abstract
Aim. To develop the composition and technology for obtaining the combined drug of indapamide with enalapril of the prolonged action.
Materials and methods. Indapamide and enalapril maleate substances as active components, and polyvinylpyrrolidone, calcium stearate, lactose monohydrate, hydroxypropyl methylcellulose as excipients were used. The pharmaco-
technological studies were conducted according to the methods of the State Pharmacopoeia of Ukraine (SPhU).
Results and discussion. The pharmaco-technological properties of tablet mixtures and the quality of finished tablets were compared using direct pressing and preliminary wet granulation.
Conclusions. It has been found that the use of the method of pre-granulation of the tablet mixture allows obtaining a finished product that fully meets the requirements of the SPhU.
References
Improving adherence using combination therapy (IMPACT): design and protocol of a randomised controlled trial in primary care / V. Selak et al. Contemp. Clin. Trials. 2011. № 32 (6). Р. 909–915. DOI: 10.1016/j.cct.2011.07.006.
Долженко М. Н., Шершнева О. П. Комбинированная антигипертензивная терапия. Политаблетка – будущее фармакологии. Український медичний часопис. 2014. № 5 (103). С. 81-82.
Guidelines for the management of arterial hypertension / B. Williams et al. Eur. Heart. J. 2018. № 39 (33). Р. 3021-3104.
Віннікова Н. В., Шманько В. В. Роль фіксованих комбінацій препаратів у лікуванні артеріальної гіпертензії в терапевтичному стаціонарі за результатами ретроспективного дослідження. Медсестринство. 2016. № 1. С. 32-35.
Компендиум OnLine. URL: https://compendium.com.ua.
Державна фармакопея України / Державне підприємство «Науковий фармакопейний центр якості лікарських засобів». 2-е вид. Харків: ДП «Науковий фармакопейний центр якості лікарських засобів», 2015. Т. 3. 732 с.
Промислова технологія лікарських засобів : навч. посіб. для самостійної роботи студентів / О. А. Рубан та ін. Харків : НФаУ, 2015. 120 с.
Pseidy L. M, Ruiz-Caro R., Veiga M. D. Matrix Tablets: The Effect of Hydroxypropyl Methylcellulose/Anhydrous Dibasic Calcium Phosphate Ratio on the Release Rate of a Water-Soluble Drug Through the Gastrointestinal Tract In Vitro Tests. PharmSciTech. 2012. № 13 (4). Р. 1073–1083. DOI: 10.1208/s12249-012-9829-9.
Ткач Т. О., Дмитрієвський Д. І. Дослідження впливу вмісту гідроксипропілметилцелюлози на вивільнення індапаміду з матричних таблеток. Фармацевтичний часопис. 2010. № 2 (14). С. 36-39.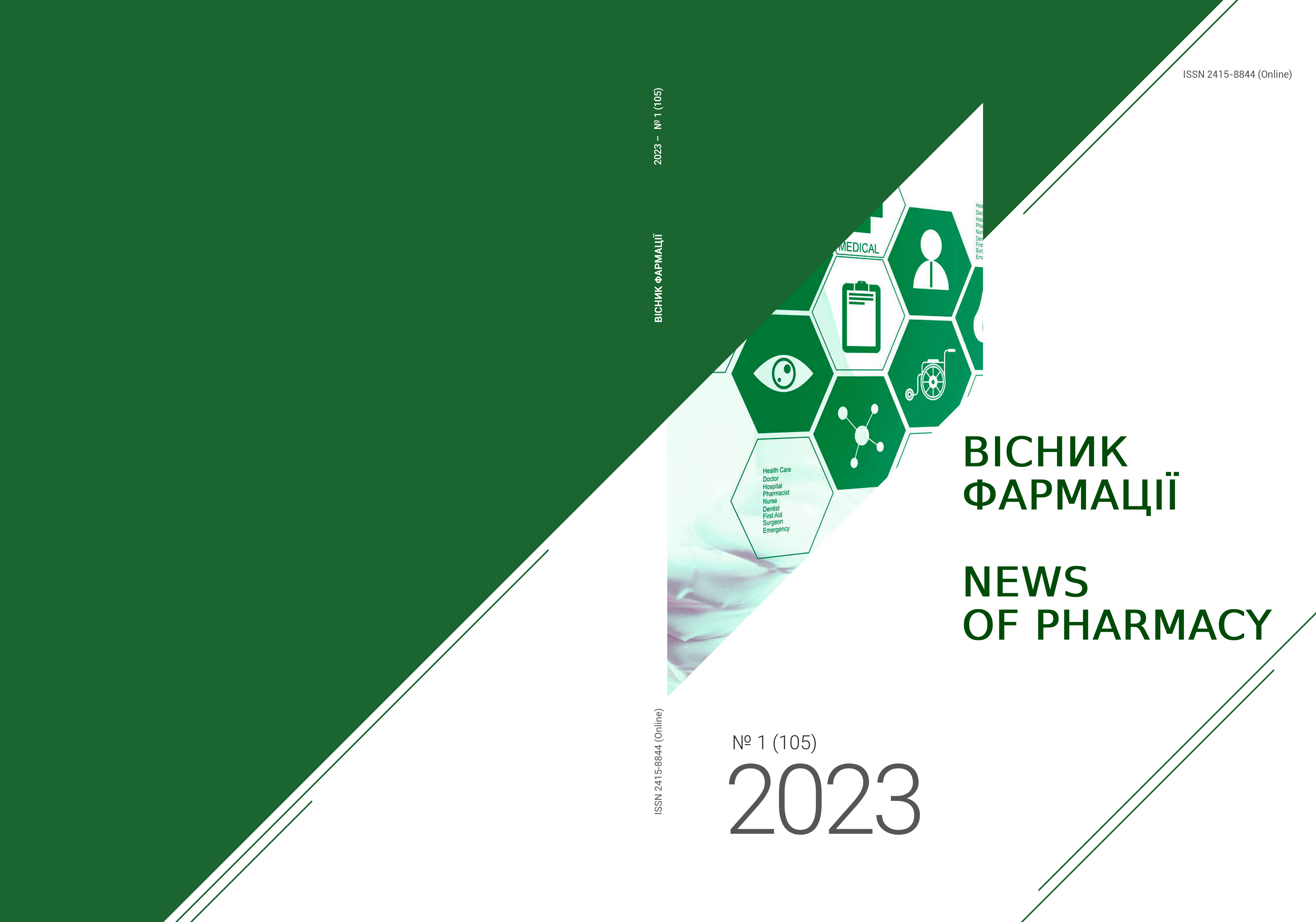 Downloads
Section
Technology of Medicines
License
Copyright (c) 2023 National University of Pharmacy
This work is licensed under a Creative Commons Attribution 4.0 International License.
Authors who publish with this journal agree to the following terms:
Authors retain copyright and grant the journal right of first publication with the work simultaneously licensed under a Creative Commons Attribution License that allows others to share the work with an acknowledgement of the work's authorship and initial publication in this journal.
Authors are able to enter into separate, additional contractual arrangements for the non-exclusive distribution of the journal's published version of the work (e.g., post it to an institutional repository or publish it in a book), with an acknowledgement of its initial publication in this journal.
Authors are permitted and encouraged to post their work online (e.g., in institutional repositories or on their website) prior to and during the submission process, as it can lead to productive exchanges, as well as earlier and greater citation of published work (See The Effect of Open Access).